---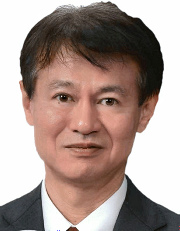 Last Modified: 24 October 2017 15:32:48

NAOKI MATSUMOTO
Attorney-at-law, admitted to bar in Japan and in New York
Business Address:

MATSUMOTO LAW OFFICE
IIDABASHI GRAND BLOOM 5F
10-2 FUJIMI 2-CHOME
CHIYODA-KU TOKYO 102-0071 JAPAN
(My office was relocated in July 2014 due to the completion of building-reconstruction.)
PHONE:+81-3-5211-7252 FAX:+81-3-5211-7260
E-mail: (in order to avoid spam, image file is used here.)
http://matlaw.info/


Education:

New York University, School of Law, New York, New York
Master of Comparative Jurisprudence in May 1991 ... my report on patent (PDF, or html here)

The Institute of Supreme Court, Tokyo, Japan
April 1985 through April 1987

The University of Tokyo, Law Department, Tokyo, Japan
Bachelor of Law in April 1985

The University of Tokyo, College of Art and Science, Tokyo, Japan
Natural Science Course 1, completed in March 1982

Experience:

Matsumoto Law Office, Tokyo, Japan
Attorney-at-law, February 1997 -

Iida & Kuriu, Tokyo, Japan
Attorney-at-law, January 1992 - January 1997
Corporate work with enphasis in patent litigation

Brown & Bain, Palo Alto, California
Japanese law consultant, September 1991 - November 1992

Anderson, Mori & Rabinowitz, Tokyo, Japan
Attorney-at-law, April 1987 - July 1990
General corporate work

Recent Writings:

Means-Plus-Function Claims: Advantages and Disadvantages (Patent, Vol.48 No.3- (1995))

Priority of Invention System (The Invention, Vol.91 Nos.3&4 (1994))

International Problems regarding Effects of Patent Rights (Patent Management, Vol.43 Nos.3&4 (1993))

Practice of Corporate Law after Revision of 1993 (coauthor, part on derivative suit (1993))

Bar Membership:

Daini Tokyo Bar Association, Tokyo, Japan
Passed bar examination of Japan in 1984
Passed bar examination of New York State in July 1991

Skills and Interests:

Amateur radio. Electronics hardware.

Languages:

Japanese. English.
---
http://matlaw.info/RESUME.HTM
Home Page of Naoki Matsumoto
Please send E-mail to me at

.(in order to avoid spam, image file is used here.)
---
(HTML transformation at 15:22 on 10 August 1997 JST
using WordPerfect 5.2J with my original macro HTM.WPM)